Balanced Autoflowering Indica

Crystal Coated Cannabis Buds

Euphoric Psychedelic Bliss

Resilience at Its Finest

Suitable for all Experience Levels
More Product Info
Sale!
Rainbow Runtz Auto
Delight in the Vibrancy of the Rainbow Runtz Strain – A Fusion of Lemon, Piney, and Coffee Flavors with a Potent 22% THC Punch!
Discover Rainbow Runtz Auto: A Resilient, Psychedelic Delight
Embark on an extraordinary journey with Rainbow Runtz Auto, a unique strain that combines the genetic excellence of Rainbow Runtz with the efficiency of autoflowering speed. This strain is a resilient and robust plant, thriving in the hands of both beginners and advanced growers, offering an opportunity to cultivate a truly captivating and colorful strain​​​​.
Join the Rainbow Runtz Auto Community
Acquiring a pack of Rainbow Runtz Autoflower means more than just receiving premium cannabis seeds. Each pack is thoughtfully curated to include additional items that enhance your overall cultivation experience, reflecting our commitment to quality in every aspect of your journey​.
Packaging, Sticker & Merch
Packaging
Rainbow Runtz Auto seeds are housed in premium, environmentally-conscious packaging. This protective casing ensures the seeds' vitality, safeguarding them from environmental stresses and preserving their genetic integrity. Our commitment to high-quality packaging reflects our dedication to providing only the best to our customers.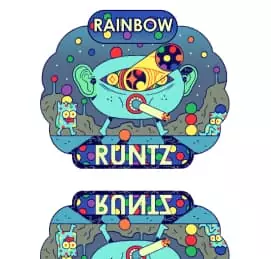 Sticker
Celebrate your cultivation journey with a unique Rainbow Runtz sticker in every pack. This token of appreciation is a symbol of your dedication to cultivating exceptional strains and adds a personal touch to your cultivation experience.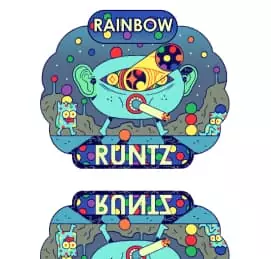 Merch & Apparel
Express your passion for the Rainbow Runtz strain with our exclusive line of merchandise. We designed this range of apparel and accessories for enthusiasts who want to showcase their love for this unique and colorful strain.
What Comes in a Pack
What Comes in a Pack
Every pack of seeds is a gateway to a world of vivid cultivation. Encased in eco-friendly, each seed is meticulously cared for, ensuring a vigorous start to your growing journey. The pack symbolizes our dedication to delivering the best in both quality and sustainability.
Aroma & Effects
Rainbow Runtz Auto: Strain Radar Chart
Utilize our Strain Radar to explore the unique characteristics of Rainbow Runtz Auto, from THC percentage and yield to taste and price. This tool helps you understand why Rainbow Runtz Auto is a standout strain, making it easier to decide if it's the right choice for your cultivation and consumption preferences.
Rainbow Runtz Auto
Ice Eyes Auto

Juicy Pussy Auto

Rainbow Runtz Auto

Papaya Pie Auto

Zkittlez Auto

Red Pistachio Auto

Dr Hypno CBD Auto

Cream Brulee Auto

Crystal Ball Auto

Amnesia Haze Auto

None
Key Stats
Rainbow Runtz Auto is a genetic marvel, boasting up to 22% THC content and delivering a potent, euphoric experience. This 60% Indica / 40% Sativa strain flowers in 8-9 weeks from germination, offering flexibility and convenience to growers. Its compact buds, packed with flavors of Lemon Tree, Piney, and Roasted Coffee Beans, are perfect for experiencing the full potential of its aromatic compounds. With indoor yields of 1.5-1.8 oz/ft² and outdoor yields of 2.1-7.4 oz/plant, Rainbow Runtz Auto is a rewarding choice for any cultivator​​.
Flavor
Lemon Tree, Piney, Roasted Coffee Beans
Type
60% Indica / 40% Sativa
Flowering
8-9 weeks from germination
Indoor Yield
1.5-1.8 oz/ft²
Outdoor Yield
2.1-7.4 oz/plant
Harvest
End of September, Start of October
Effect
Alert, Happy, Uplifting
Genetics
Rainbow x Runtz x Ruderalis
Grow Tips
Grow Tip #1
Maximize the potential of Rainbow Runtz Auto with a nutrient-rich regimen. This strain flourishes when fed with plenty of nutrients, resulting in dense, trichome-laden buds. For the best organic nutrients suited for autoflowering plants like Rainbow Runtz Auto, check out our detailed guide: The Best Organic Nutrients for Autoflower.
Grow Tip #2
Maintaining Rainbow Runtz Auto's compact structure is best achieved through low-stress training (LST) techniques. LST not only guides the plant's growth for better space utilization but also significantly enhances yield potential. To learn more about implementing LST in your cannabis cultivation, visit our blog: Low-Stress Training (LST) in Cannabis Plant Cultivation.
Rainbow Runtz Auto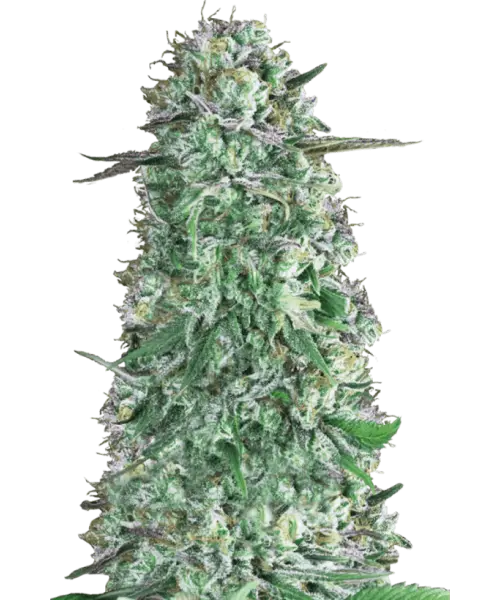 Balanced Autoflowering Indica

Crystal Coated Cannabis Buds

Euphoric Psychedelic Bliss

Resilience at Its Finest

Suitable for all Experience Levels
Ice Eyes Auto

Juicy Pussy Auto

Rainbow Runtz Auto

Papaya Pie Auto

Zkittlez Auto

Red Pistachio Auto

Dr Hypno CBD Auto

Cream Brulee Auto

Crystal Ball Auto

Amnesia Haze Auto
VS
Strain Match-Up: Compare Rainbow Runtz Auto
Discover how Rainbow Runtz Auto stands against other popular strains with our Strain Match-Up tool. This feature allows you to compare Rainbow Runtz Auto's characteristics like THC content, yield, flavor profile, and growth patterns with other strains in our catalog.
Reviews
Customer Reviews
2 customer rating
5 stars

100%
4 stars

0%
3 stars

0%
2 stars

0%
1 stars

0%
Customer Images
Shipping & Germination Guarantee
Guaranteed Germination
We guarantee the germination of each seed, and if any fail to sprout, we'll replace them. Learn more about our germination guarantee here.
FREE Free Shipping
Check if you're eligible for our complimentary shipping service by visiting our website. Find out the regions and conditions for qualifying orders here
Guaranteed Delivery
Rest assured, we stand behind our promise of 100% guaranteed delivery. Your order will reach you safely and discreetly.
Discreet Shipping
Your privacy is our top priority. We ensure discreet shipping, with no indication of the package contents. Shop with confidence, knowing your order will arrive in a discreet and confidential manner.
Secure Packaging
We prioritize the protection of your seeds, maintaining their quality and integrity throughout the shipping process. Your satisfaction and peace of mind are our utmost priority.
Quality Assurance
Our seeds undergo strict quality assurance processes to ensure their viability, genetic stability, and overall excellence.
Shipped within 24h
Your order will be carefully packaged and shipped within 24 hours, ensuring prompt delivery to your doorstep. Trust us for a seamless and timely shopping experience.
Trackable Shipments
Once your order is dispatched, we'll provide you with a tracking number, allowing you to monitor the progress of your package until it reaches your hands.
Free Bonus Seed
As a special bonus, we're including a free seed with every order. It's our way of saying thank you for choosing Hypno Seeds.